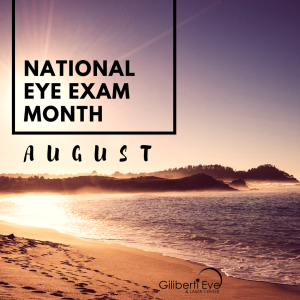 August is National Eye Exam Month!
Don't forget to make comprehensive eye exams a part of your overall health routine! According to the Centers for Disease Control and Prevention (CDC), "about 11 million Americans over age 12 need vision correction—but it's just one of the reasons to get your eyes examined. Regular eye exams are also an important part of finding eye diseases early and preserving your vision." [1]
In support of National Eye Exam Month in August, here are a few things that comprehensive exams keep an 'eye' on:
Eye Health: Many common eye problems have no obvious signs or symptoms, such as glaucoma, age-related macular degeneration, and diabetic eye disease. The CDC states that "a dilated eye exam is the only way to detect these diseases in their early stages." [2]
General Health: The eyes can be a window to overall physical health. In some cases, a comprehensive eye exam may help detect systemic health issues such as diabetes, high blood pressure, autoimmune diseases, and high cholesterol. [3]
Refractive Error: A comprehensive eye exam helps determine vision (visual acuity) and refractive error. Devices like glasses and contact lenses may be used to help correct refractive error.
(SOURCE: [1] CDC, [2] CDC, [3] AAO)

Check out our Eye Exams Pinterest Board and Healthy Vision Pinterest Board for more helpful information!
Call Giliberti Eye and Laser Center at (973) 595-0011 to schedule your comprehensive eye exam!