What is Laser Vision Correction?
Laser Vision Correction is an outpatient refractive eye surgery that could reduce your dependence on eye glasses and contact lenses. It is used to correct and improve the following conditions:
Myopia, or nearsightedness, where objects at a distance appear blurry
Astigmatism, where blurry vision is due to an irregularly shaped cornea
Low Level Hyperopia, or farsightedness, where objects at an intermediate distance appear blurry
There are several types of laser vision correction procedures, all of which are used to correct and adjust the shape of the cornea, which is the clear, round dome at the front of the eye. These procedures include:
PRK, Photorefractive Keratectomy
epi-LASEK, Laser Epithelial Keratomileusis
LASIK, Laser Assisted In Situ Keratomileusis
For the ease and comfort of our patients, Giliberti Eye and Laser Center has an in-house Laser Vision Correction Suite, which is conveniently located on the second floor of the Totowa office! Dr. Orazio L. Giliberti, FACS personally performs all procedures using an FDA-approved VISX Star S4 IR® Excimer Laser and the WaveScan WaveFront® diagnostic system, which is also used in the Hubble Telescope by NASA!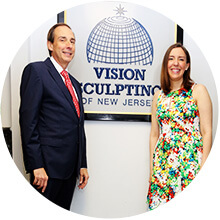 Benefits of Laser Vision Correction
Some overall advantages for laser vision correction include, but are not limited to:
Freedom from glasses and contact lenses
Night vision that is up to four times better than that achieved with traditional corrective procedure and lenses
Play sports, swim, and perform recreational activities with ease
Enter into an occupation for which you would otherwise be ineligible
All types of laser vision correction are safe and quick procedures, however it is important to recognize that there are risks involved with all surgeries. Giliberti Eye and Laser Center will ensure that you have all of the information necessary to make an informed decision and determine the best course of action.
The first step in this exciting process is to schedule a thorough and comprehensive examination with Dr. Giliberti to determine if you are a candidate. Eligibility can depend on age, severity of vision loss, and type of vision correction required.
Don't delay! Call Giliberti Eye and Laser Center at (973) 595-0011 to take the next exciting step in Laser Vision Correction!
Book an Appointment