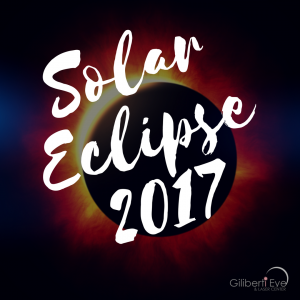 Eye Safety Tips to Experience the Solar Eclipse Without Damaging Your Vision
On August 21, 2017, "In a 70-mile wide band from central Oregon through South Carolina, a total eclipse of the sun will be visible across the entire continental United States for the first time in almost 40 years. The rest of the nation and parts of North and Central America will experience a partial solar eclipse." [1] During this unique and exciting event, make sure to be prepared with proper eye protection! Without following proper safety precautions, "viewing even the smallest sliver of a crescent sun peeking out from behind the moon is enough to cause irreversible damage to your vision." [2]
There are no exceptions to the rules for safely viewing a partial solar eclipse! The American Astronomical Society (AAS) states, "the only safe way to look directly at the uneclipsed or partially eclipsed Sun is through special-purpose solar filters, such as "eclipse glasses" or handheld solar viewers. Homemade filters or ordinary sunglasses, even very dark ones, are not safe for looking at the Sun; they transmit thousands of times too much sunlight." [3] Make sure that the eclipse glasses and handheld solar viewers are verified to be compliant with the ISO 12312-2 international safety standard, and that you purchase them from a reputable vendor!
Follow these additional eye safety tips from the American Astronomical Society [3] to safely enjoy this incredible event:
Always inspect your solar filter before use; if scratched, punctured, torn, or otherwise damaged, discard it. Read and follow any instructions printed on or packaged with the filter.
Always supervise children using solar filters.
If you normally wear eyeglasses, keep them on. Put your eclipse glasses on over them, or hold your handheld viewer in front of them.
Stand still and cover your eyes with your eclipse glasses or solar viewer before looking up at the bright Sun. After looking at the Sun, turn away and remove your filter — do not remove it while looking at the Sun.
Do not look at the uneclipsed or partially eclipsed Sun through an unfiltered camera, telescope, binoculars, or other optical device.
Similarly, do not look at the Sun through a camera, telescope, binoculars, or any other optical device while using your eclipse glasses or handheld solar viewer — the concentrated solar rays could damage the filter and enter your eye(s), causing serious injury.
Seek expert advice from an astronomer before using a solar filter with a camera, telescope, binoculars, or any other optical device; note that solar filters must be attached to the front of any telescope, binoculars, camera lens, or other optics.
If you are inside the path of totality, remove your solar filter only when the Moon completely covers the Sun's bright face and it suddenly gets quite dark. Experience totality, then, as soon as the bright Sun begins to reappear, replace your solar viewer to look at the remaining partial phases.
Outside the path of totality, you must always use a safe solar filter to view the Sun directly.
(SOURCE: [1] CDC, [2] AAO, [3] AAS)

Check out our Solar Eclipse 2017 Pinterest Board for more helpful information!