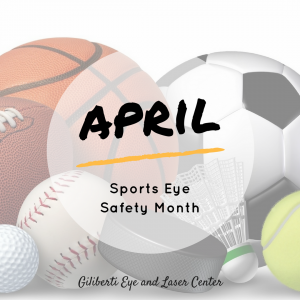 April is Sports Eye Safety Month!
Each year, an estimated 100,000 people are hurt by sports-related eye injuries. About 13,500 of these injuries result in permanent vision loss.
The good news is that 90 percent of eye injuries can be prevented with the use of protective eyewear.
Save your vision while playing sports by following these tips:
Wear the right eye protection: Wear protection with shatterproof polycarbonate lenses, as regular prescription glasses may shatter when hit by flying objects. If you wear glasses, try sports goggles on top to protect your eyes and your frames.
Put your helmet on: Wear a helmet with a polycarbonate face mask or wire shield.
Throw out old gear: Eye protection should be replaced when damaged or yellowed with age. Wear and tear may cause them to become weak and lose effectiveness.
Know the standards: Choose eye protection that meets American Society of Testing and Materials (ASTM) standards.
In support of Sports Eye Safety Month this April, Giliberti Eye and Laser Center and the American Academy of Ophthalmology reminds athletes everywhere that the great majority of sports-related eye injuries can be avoided by simply wearing the proper protection!
(SOURCE: Eye Health Observances – EyeSmart Program from American Academy of Ophthalmology)
Call Giliberti Eye and Laser Center at (973) 595-0011 to schedule your appointment!