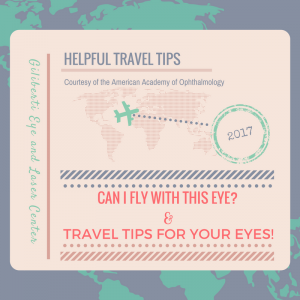 Travel and Eye Health
It is important to take good care of your eyes, as they lead the way to just about every task performed in life. Even when traveling, it is essential to take extra steps so your eyes remain healthy and happy!
The American Academy of Ophthalmology provides some excellent information on ways to keep your eyes healthy no matter where you are!
Click on the following links to learn more!
Can I Fly With This Eye?
Travel Tips For Your Eyes Only
Call Giliberti Eye and Laser Center at (973) 595-0011 before your next trip!