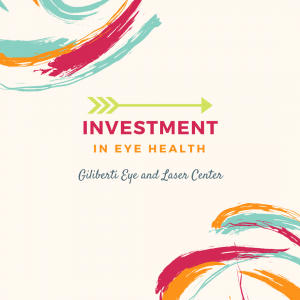 Investment in Eye Health
The eyes lead the way to just about every task performed in life, and it is extremely important to take good care of them! Keeping your eyes healthy will help to maintain good vision, and the best way to do this is to have an eye examination at Giliberti Eye and Laser Center at least once a year. This is critical to ensure that any changes in vision are monitored and corrected. Also, with consistent examinations, any eye diseases may be diagnosed early enough to begin treatment and prevent vision loss.
Family health history is also a significant factor when determining your eye health. When attending your yearly eye examination at Giliberti Eye and Laser Center, it is important to know as much of your family history as possible. Having a complete medical history on file will help determine if you are more at risk for developing certain diseases.
Other ways to maintain your eye health on a daily basis includes protection from UV rays and maintaining a healthy diet. Lutein and Omega-3s are very helpful in safeguarding against eye disease!
Call Giliberti Eye and Laser Center at (973) 595-0011 to schedule your appointment!