How does the OptiMedica Catalys® Laser System and the LenSx® Laser System work?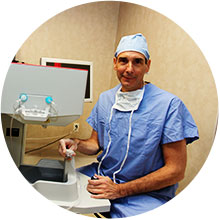 Both the OptiMedica Catalys® and LenSx® Laser Systems work by creating a customized surgery experience using a femtosecond laser (which has been used for years in laser vision correction), 3-D technology, and specialty software.
First, an image guidance system maps the contours of your eyes and shows the doctor exactly where to distribute the laser pulses that will create the corneal incision.
Then, the system's innovative design builds "safety zones" that Dr. Orazio L. Giliberti, FACS uses to determine exactly where to activate the laser. Since the "map" is based on your eyes alone, it is the most accurate rendering available.
Dr. Giliberti can now locate the best point to create a corneal incision, remove the clouded cataract, and then most likely replace it with a clear, artificial intraocular lens (IOL).
The difference between traditional cataract surgery and laser cataract surgery is that the pattern scanning technology allows for greater precision, better patient outcomes, enhanced vision, and fewer complications.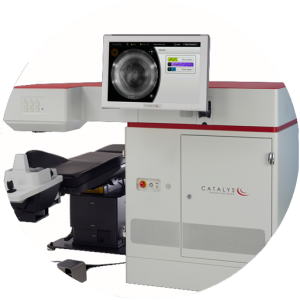 Astigmatism Corrected During the Same Procedure
The OptiMedica Catalys® Laser System and LenSx® Laser System are also designed to correct astigmatism, a vision defect that is caused by an irregular-shaped cornea or lens that can cause blurred or distorted vision. With the customized guidance system, Dr. Orazio L. Giliberti, FACS can use the femtosecond laser to make precise incisions that actually change the cornea's shape. This means that many patients' cataracts can be removed and their astigmatism corrected in just one quick surgery! Instead of having two different procedures, patients now need only one using the latest technology available.
Benefits of the OptiMedica Catalys® Laser System and the LenSx® Laser System
Thousands of laser procedures have been performed around the globe since this ground-breaking technology was introduced.  The benefits of these laser systems are numerous and include:
The ability to treat a larger spectrum of cataract patients, with astigmatism, of all ages
Greatly improved outcomes
A more gentle procedure for your eyes
Faster recovery following surgery
Quickly regained vision for more than 90% of patients, as well as superior visual performance (usually between 20/20 and 20/40)
A never-before-seen guidance system for physicians that gives them complete ease of use
(SOURCE: Abbott Medical Optics Inc. and Alcon Laboratories, Inc.)
Both the OptiMedica Catalys® and LenSx® Laser Systems are low-sedation cataract surgery, which means that patients receive small amounts of sedatives, and are usually awake during surgery. This is an outpatient procedure and has a quick recovery time. Most patients can take up their normal activities within a few days.
Call Giliberti Eye and Laser Center at (973) 595-0011 to learn more about these amazing laser systems!