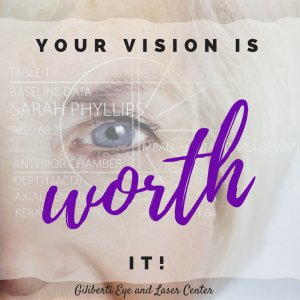 Have Laser Cataract Surgery Because Your Vision Is Worth It!
A cataract is a common condition, where the natural lens of the eye becomes increasingly cloudy.  Vision with a cataract may look fuzzy or blurry, colors may be muted, or you may experience difficulty reading signs while driving at night.  Cataract symptoms are progressive and cannot be corrected with glasses or contacts.  When symptoms become bothersome, it's time to consider treatment.
Cataract surgery is a medical procedure where the natural eye lenses are removed and replaced with intraocular lens implants (IOLs).  These IOL implants become a permanent feature of your eye once the surgery is complete.
Giliberti Eye and Laser Center is proud to offer patients state-of-the-art and high definition cataract surgery with the OptiMedica Catalys and LenSx Laser Systems.  Laser cataract surgery utilizes pattern scanning technology that allows for greater precision, better patient outcomes, enhanced vision, and fewer complications.  The OptiMedica Catalys System and LenSx Laser System are also designed to correct astigmatism by making precise incisions that actually change the cornea's shape.  This means that many patients' cataracts can be removed and their astigmatism corrected in one procedure.
With the use of these laser systems, the cataract removal is gentle, accurate, and customized to each patient's eye.  This allows Dr. Giliberti to utilize the most advanced and precise cataract removal technique available today!
Call Giliberti Eye and Laser Center at (973) 595-0011 to learn more about these amazing technological advances!